A few pictures from my Part B training - February 2009.
Click on the pictures to see the bigger image
The first day on Part B - we actually had some wind in the sails!
Making the most of every minute - we're in there somewhere!
Getting ready for Man Overboard (MOB) drills
Safely back on board......... Meanwhile the Skipper trials do the same drills
Me at the helm - note how calm the sea is... calm enough to do a spot of mast climbing!
Then Sharon.... Kate next..... Phil's up there.... While we watch on.....
Queen of the sail-ties.... First mate & Skipper Part B Chums
Packing up the sails.... Getting ready to moor-up at the end of the week...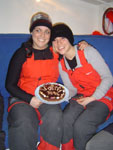 ...and then there was the 'Sorry' cake!
See also Part B Training Account